Click on any of the pictures to open a larger image in a separate window
and to read more details about each of the models.
Starting at the front of the train, this photograph shows the Abstosswagen (Control car)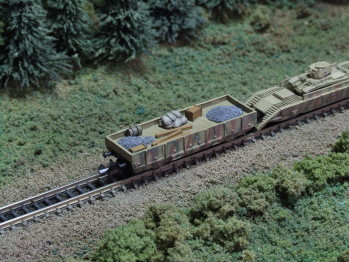 Next is the Panzertragerwagen (tank carrier car). The Pz38(t) tank is a separate model with a rotating turret.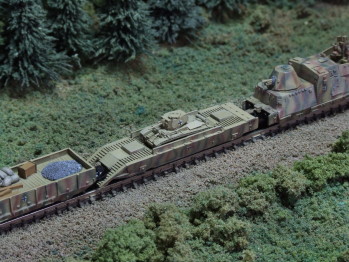 After that, the Kannonen und Flakwagen (Artillery and AA car). All turrets rotate.
Next is the Kommandowagen (Command car).
Nearing the middle of the train, the Geschutzwagen (Artillery car).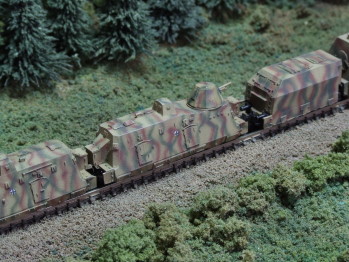 The Panzerlok formed the centre of the train. It was normally run with 2 tenders in order to increase its
operational range. The overall length of the locomotive and tenders is 127mm over the buffers.
The model is cast in a mixture of plastic and bronze.
Now working along the back half of the train, these photographs show the other side of the wagons.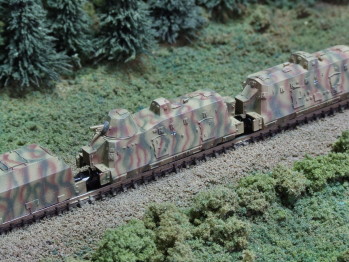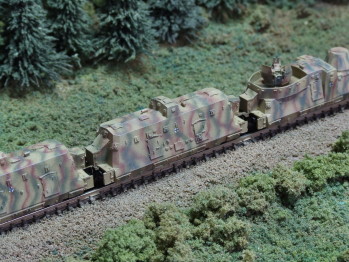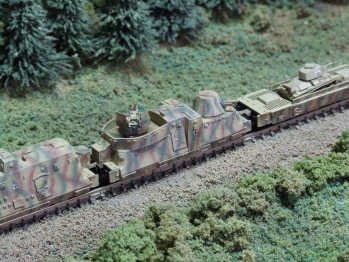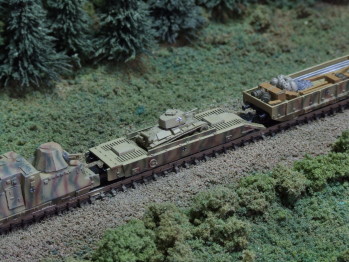 Finally, now at the back of the train, we see again the Abstosswagen (Control car). The 2 Abstosswagens have different loads (compare with the picture at the front of the train).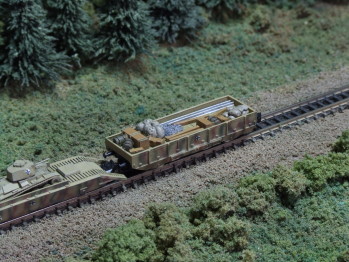 Some general views of the train.
Customer feedback
"The model arrived today. WOW!!!! I am most impressed. It is even better
in person. Your painting and weathering is incredible. Good job! I can't wait
to get the next cars to the set. I want more!"
- Rob Kluz Editor Ztrack magazine
"Also ich muss schon sagen, die Panzerlok, sowie die Tiger sehen einfach Klasse aus.
Lange schon habe ich Modelle aus der Zeit des WW II gesucht und auch gefunden.
Leider erreicht das Gefundene nicht annähernd das Niveau deiner Modelle"

"Totally satisfied, best model ever seen, absolut top,super Modell, immer wieder."

"Am Samstag ist dein Paket angekommen. Die Königstieger sind sehr gut gelungen.Die anderen Waggons sind
fabelhaft gearbeitet. Es ist schwer für mich einen der Waggons besonders hervorzuheben, alle sind super."
"Received the Panzer wagons today, absolutely perfect, I am very pleased with the whole set.
I know from our communications that this project was a labour of love, but the end result
is excellent and the quality and accuracy superb."